Area Rugs: Machine Made Rugs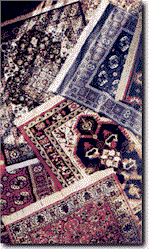 The machine-made rug industry in the United States began in 1791 when William Sprague started the first woven rug mill in Philadelphia. Others opened during the early 1800s in New England. Included in that area was Beattie Manufacturing Company in Little Falls, New Jersey, a company that operated until 1979.
In 1839, Erastus Bigelow permanently reshaped the industry with the invention of the power loom for weaving
rugs
. Bigelow's loom, which doubled
rug
production the first year after its creation and tripled it by 1850, is now part of the Smithsonian Institution's collections. He continued to devote his life to innovation -- 35 separate patents were issued to him between 1839 and 1876. Bigelow introduced the first broadloom carpet in 1877.
Industrialist
/
retailer Marshall Field had a traditional Axminster weaving loom modified to create what no one else had ever created -- a machine-made rug woven through the back, just like a handmade Oriental, featuring intricate designs and virtually unlimited color variety. Karastan's rug mill was established in 1926, and introduced the first Karastan rugs to the public in 1928.
There are many manufacturers today producing both simulations of antique designs and updated "oriental" type rugs by both weaving and tufting processes.
Brand Overview
---

---
Profile
|
Website
Kaleen is an international vertical manufacturer of beautiful handmade rugs. With over 3,500 skilled artisans, Kaleen is committed to product quality.
---

---
Profile
|
Website
Momeni. A family name, a mark of quality and an expert source of ideas for making your home come alive with true timeless beauty. Over half a century ago, Ali A. (Haji) Momeni started a family business bringing exquisite Persian. Though styles have come and gone, beneath them all is the fundamental principal that Momeni rugs are created to touch our senses. From concept through production, a member of the family is there making sure that the highest standards are being met.
---

---
Profile
|
Website
Acquisition builds on Stanton's market position as a leader in the premium carpet .